SIGNED ANTIQUE LCT TIFFANY LAMP SHADE with RAINBOW BAND NICE COLORS & ONION SKIN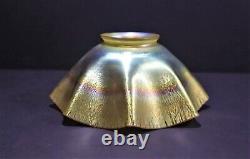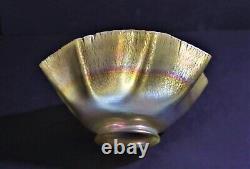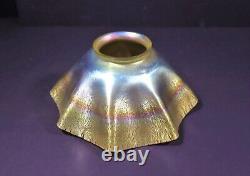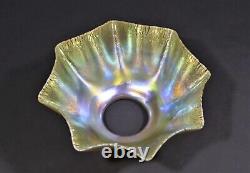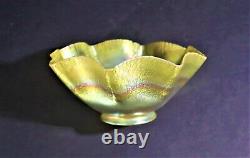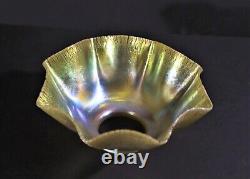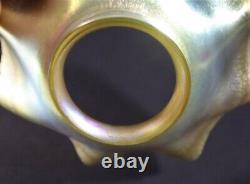 OFFERING THIS ANTIQUE LCT TIFFANY CANDLE STICK LAMP SHADE. 7.25 WIDE x 3.25 TALL. THE EXTERIOR OF THE FITTER RING IS APROX. 2.50 THE SHADE HAS AN UNUSUAL RAINBOW BAND AROUND IT'S CENTER WITH NICE ONION SKIN AND BRIGHT GOLD COLOR. PERSONALLY, FOR A COLLECTOR THESE CANDLE STICK SHADES ARE A MUCH BETTER INVESTMENT THAN THE PRICEY SMALL BELL SHADES.
THEY WERE MUCH MORE DIFFICULT TO MAKE, AND THEY ARE MUCH MORE ATTRACTIVE. THE SHADES ARE THE MOST DIFFICULT TO FIND THEN THE CENTER CANDLE STICK THAT HOLDS THE SHADES, OR THE LAMP BASES. MANY OF THESE SHADES WERE BROKEN BECAUSE THEY ARE DELICATE AND WERE BROKEN WHEN THEY REMOVED THEM TO LIGHT THE WICK, OR WHEN THEY WERE PACKED AND MOVED. PLEASE SEE MY OTHER LISTING FOR A TIFFANY CANDLE LAMP SHADE HOLDER/INSERT THAT FITS THIS SHADE PERFECTLY! IF YOU HAVE A BASE- YOU CAN HAVE AN ENTIRE CANDLESTICK LAMP.
THANK YOU FOR VIEWING MY ITEM FOR SALE!