VTG Spider Arachnid Lamp Sconce Light with STRATA Italian Marble, Blown Shade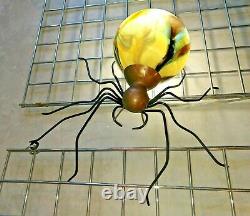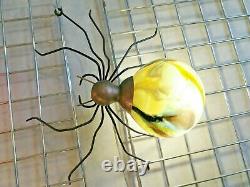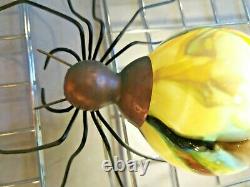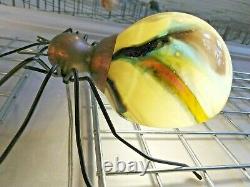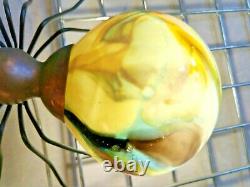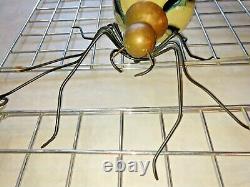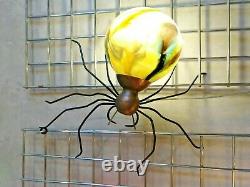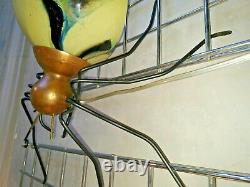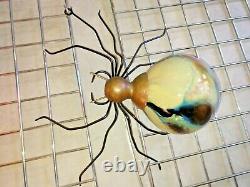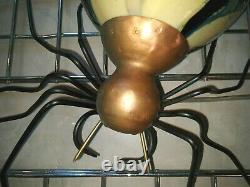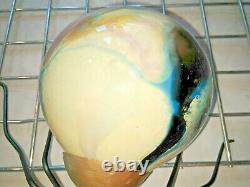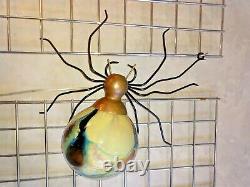 Spider Arachnid Lamp Sconce Light. "STRATA" Italian Marble, Hand-Blown Glass. Seattle by Way of Murano. I pack professionally to facilitate your damage-free receipt.
And you will have to file your own claim. This is a unique Spider Sconce that can be used on or adapted for the wall, ceiling or a table. It has a ring built into the tip of one leg and the remainder can be used to anchor the lamp.
The frame is iron and copper, made by Italian artisans between 1930 and 1960. The glass was made in my Seattle studio, the Edge of Glass. I updated all electric parts, reinforced the socket seating platform and installed a threaded socket and ring system for easier shade attachment. I made the shade from my STRATA design so that it lights up brightly and matches stone, wood and other soft and natural colors.
I highly recommend using an electric dimmer with a dimmer-compatible light bulb emitting 850+ lumens. The side of the glass facing the wall has a 4-5 inch circular cut out to provide more light. You can ask for a substitute or second shade for a nominal price. State your colors, pattern or theme for a price quote. This lamp measures 17 inches long, 18 wide and 9 deep.
It weighs 4 lbs before packing. Thank you for viewing my listing. I use clean, recycled materials and a heavy-duty box whenever possible. If UPS has to be used for an oversized package, long distance or difficult terrain, etc. A PERSONAL JOURNEY THROUGH SPIDER LAND.
As part of my glass blowing art and business, I build electric lamps using both contemporary and vintage components. I particularly enjoy re-purposing beautiful, rare and unusual lamp bases and parts sourced from all over the world. I usually confine my search to those from the 1890's to 1940's with a special interest for works from both Art N. For me, this is just another delightful part of my vocation but when I came across my first spider lamp, I reacted with both revulsion and fascination.
WHY - Growing up in rural South Korea in the 1960's, I had my share of close encounters with scary, hairy, seemingly giant spiders. I now know that they were just living things doing what they do without malice and simply reacting to circumstances I most likely thrust them into. But, it sure didn't seem that way to me when I was a kid and all my friends screamed for me to run. I never shed my phobia and had another terrifying experience among the tall beach grass along the Oregon coast some 20 years ago. WHAT - When I began sourcing metal spider bodies, I.
Several surprising things about the industry that made them. Beyond the few modern copies that are out there, all spider lamps seem to be hand-made solely by artists in Italy, through a unique collaboration of glass-blowing, sheet metal forming, forging and electrical lamp assembly specialists. After two decades of research and practice, I have come to understand some of the history of this unusual lamp form and how they might be classified.
For this listing, I will limit my description to the latter. There are several kinds of vintage spider lamps and they can be grouped into distinct and common characteristics. Size - There are 18-inch diameter spiders and then those a few inches smaller. Metal type - The bodies consist of forged iron exclusively for the legs and either cast iron or worked copper sheets for the thorax and head. Details - Some possess metal work on head, thorax and leg tips that are very detailed.
Others have rudimentary features and at best resemble arachnid archetypes. Hardware - The internal lighting parts and wiring usually reflect technology and supplies available and used during roughly 1940's to 50's time. Updates in flat spring steel to coiled clips for shade-holding and styles of electric sockets or control switches installed can be found.
Shade - If original and still attached to the spider body, older glass shades from this time period tend to be of a straight-forward design. They are often made of clear, bubbled and/or optically textured patterns, sometimes using transparent colors such as smoky grey, amber or mica brown. In contrast, I acquired a small vintage spider lamp once that came with a beautiful green and. Crossed white bubble-design, but this is a rarity. HOW - The STRATA glass design is proprietary.
The colors are worked at 2150 degrees F and finished works cooled over 24 to 72 hours depending on glass thickness and color complexity. Glass and colors used have a co efficiency of expansion of 96.
FINISH - After 24 hours, the glass shade emerged from the kiln fully. Stressed and I ground the opening's sharp edges flat. I made sure the hole size would be large enough to fit the lamp parts and bulb.
I drilled a larger hole to emit more light. I cleaned the spider's metal frame and remove the old lamp parts and wiring. I installed fresh, updated parts and also an energy-efficient LED bulb.
I attached the new glass shade to the spider frame and brought this little old arachnid into the 21st century. The item "VTG Spider Arachnid Lamp Sconce Light with STRATA Italian Marble, Blown Shade" is in sale since Wednesday, June 24, 2020. This item is in the category "Antiques\Decorative Arts\Lamps". The seller is "hotgoodcoldbad" and is located in Seattle, Washington. This item can be shipped to United States.
Featured Refinements: Figural lamp
Type: Lamps
Style: Art Nouveau
Age: Post-1940
Primary Material: Cast Iron
Original/Reproduction: Original
Color: Beige
Country/Region of Origin: Italy